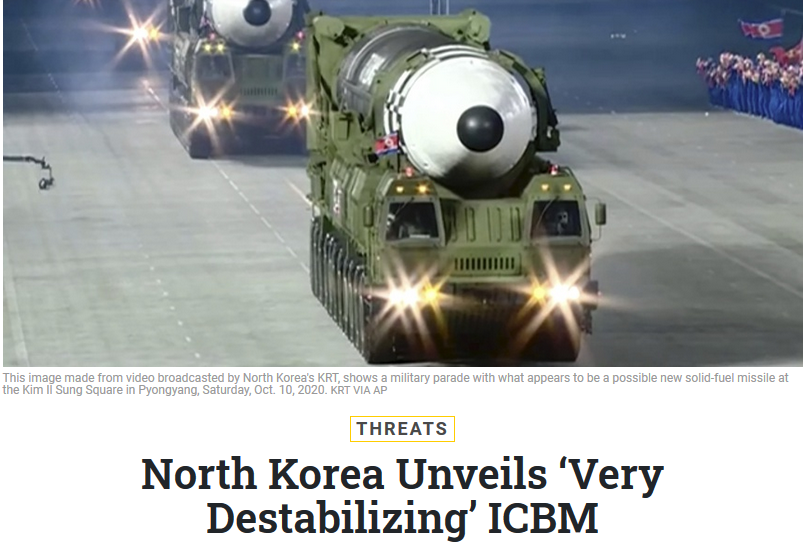 You probably didn't see this in mainstream media, but we monitor sources like Defense One news that cover threats that our elected government officials ignore since they lack vote buying potential. The Wall Street Journal also confirmed this new much larger ICBM likely has capability to reach the U.S. mainland. Jeffrey Lewis, a scholar at the Middlebury Institute of International Studies believes that the missile is intended to carry multiple warheads, increasing the likelihood of getting through U.S. missile defenses.

While it may not be accurate it would not need to be to launch a devastating Electro Magnetic Pulse (EMP) attack. Defense officials have long warned that North Korean nuclear weapons, with Russian designs, are likely optimized to deliver massive EMP effects that could destroy large parts of the U.S. electric system, bringing the electric grid down for a year or more. This would mean almost no economic production, prevent operation of municipal water systems, and cause a horrendous collapse and loss of law and order that, according to a former Director of the CIA, could kill a large portion of the population.

Vice TV documentary covers the expensive shelters and survival plans for Political Officials in a series entitled: "While the Rest of Us Die."
We've mentioned Mount Weather and the huge investments that political leaders have made for their survival in the past. This documentary covers it in detail. In later episodes, Fortitude Ranch is mentioned.

Fortitude Ranch Nevada open for "Pioneer membership" sales
Our new FR Nevada location, near Reno, is now open for "pioneer memberships." We have some rooms available now, including luxury rooms, and much more opening next spring and summer. You can join now to get a room before prices go up (another price increase coming on January 1) and best of all, your membership clock does not start running until we reach full operational capability in summer of 2021. You are immediately a FR member, and can vacation and shelter at NV or any FR location, but until we are fully outfitted at FR NV, time is not running for quarterly dues or annual food restocking fees.
For more information on pioneer memberships at FR NV, contact [email protected]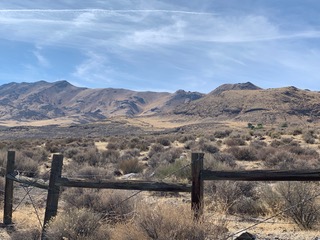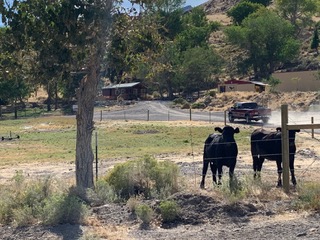 If you are waiting to join Fortitude Ranch you need to buy membership tokens so you can lock in a lower price and have priority to join over cash buyers
Thousands of people have contacted us over the past months, and most are planning to wait and join later when they see a big threat developing. This might work for you, but thousands of others are also likely to see the emerging disaster and ask to join—and we'll be sold out of capacity. If you want to have priority to join Fortitude Ranch later, you need to buy our cryptocurrency membership tokens now. Our membership token holders have priority to join over people offering cash to join. Our website provides more information on how this works, and you can contact our sales staff to ask questions:
https://fortituderanch.com/initial-membercoin-offering/
[email protected]

The other huge advantage of buying these tokens is that the number of tokens needed to join never goes up, but the cash price to join and the price of our tokens continues to rise. You can lock in the price to join Fortitude Ranch, and have priority over cash buyers to join, if you purchase Fortitude Ranch membership tokens.

If you are interested in an investment that profits when the rest of the economy tanks, Fortitude Ranch is accepting equity investment from accredited investors
Several of our members have invested in Fortitude Ranch, some via extra token buys, others who qualify as "accredited investors" with equity investment in the company. Fortitude Ranch is a great hedge investment since it can deliver big profit when the rest of the economy and stock market is tanking. SEC regulations restrict us to accredited investors, meaning folks earning over $200,000 year or a million in net worth. If you qualify and are interested, email [email protected]
A video on investing in "the age of pandemics and collapse" is available here.

Fortitude Ranch RV Members can purchase a small woodstove stockpiled at your home fort for crisis time installation
An RV membership can be used to join Fortitude Ranch, but a major disadvantage of RVs in a collapse situation is heating them in winter when your LP gas has run out. Adding a small wood stove is feasible, but you need to probably put it in the shower, with special installation to avoid melting plastic. Not something you'd want to do until there is a collapse, survival situation. We are now offering a service where you can buy a woodstove at your "home fort" Fortitude Ranch location and we'll purchase the stove and installation materials needed, have it ready to install in the event of a collapse (and we know how to install it). If interested in the RV membership option and information on the cost of a stockpiled emergency RV wood stove, contact Anna for FR Colorado membership ([email protected]) or Alicia for FR WV and NV ([email protected]).
Seeking Ranch Manager for our new Fortitude Ranch Nevada location

We are looking for an honorably discharged Vet with construction skills and interest in running our recreational and survival community in NV. You don't need to be an experienced carpenter, but ability to put up walls, accomplish basic house building tasks a must. If interested, send a resume or description of your relevant work skills to [email protected].
Seeking Experienced HAM Radio operators
In a collapse situation, the only way we may be able to communicate via HAM radio. If you have great HAM radio operational skill and are interested in working with Fortitude Ranch's HAM radio network, please contact Col Drew Miller at [email protected].