New "Bird's Nest" and Guard Tower at Fortitude Ranch Colorado
Below is the view from the new three-story tall tower built at Fortitude Ranch Colorado. Often its big horn sheep around us, but these are free range cattle on our property. We'll also be adding our own cattle to the area free roaming herd later this summer. Those are the "Collegiate Peaks" of Colorado, 14,000 feet plus tall, in the distance.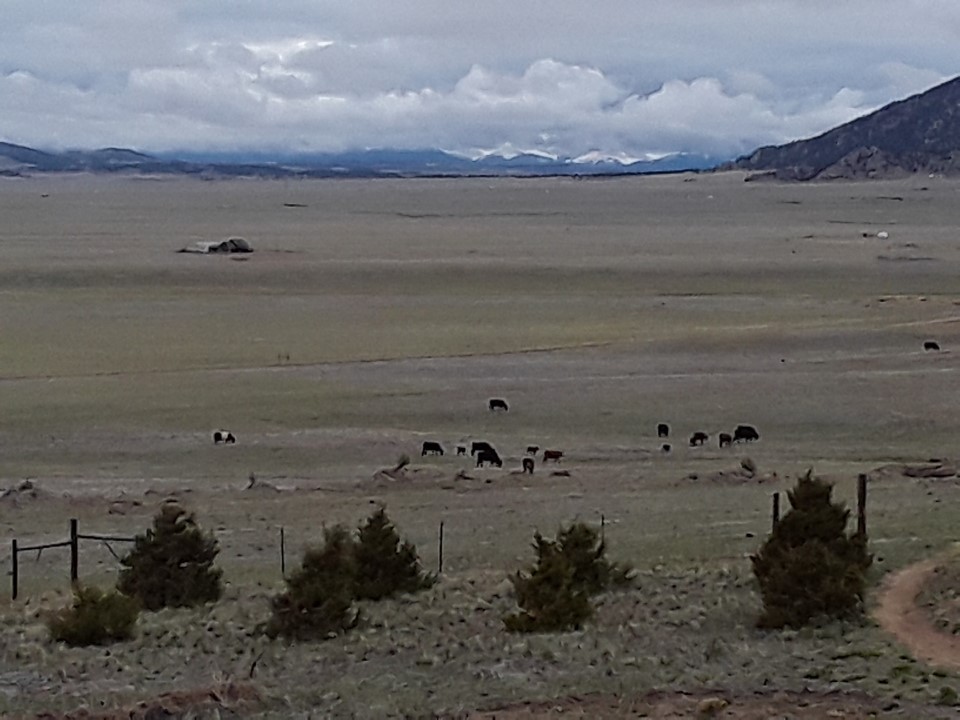 While a great place to sit and enjoy 360 degrees of scenery, it is of course also a guard tower at the corner of the compound.  Guards can see over the house it attaches to, clear views to the neighboring guard posts and 180 degrees coverage of the open approaches to the facility.  Smart aggressors would come at us from the national forest on the north side of the property where our best guards and staff would be stationed at night.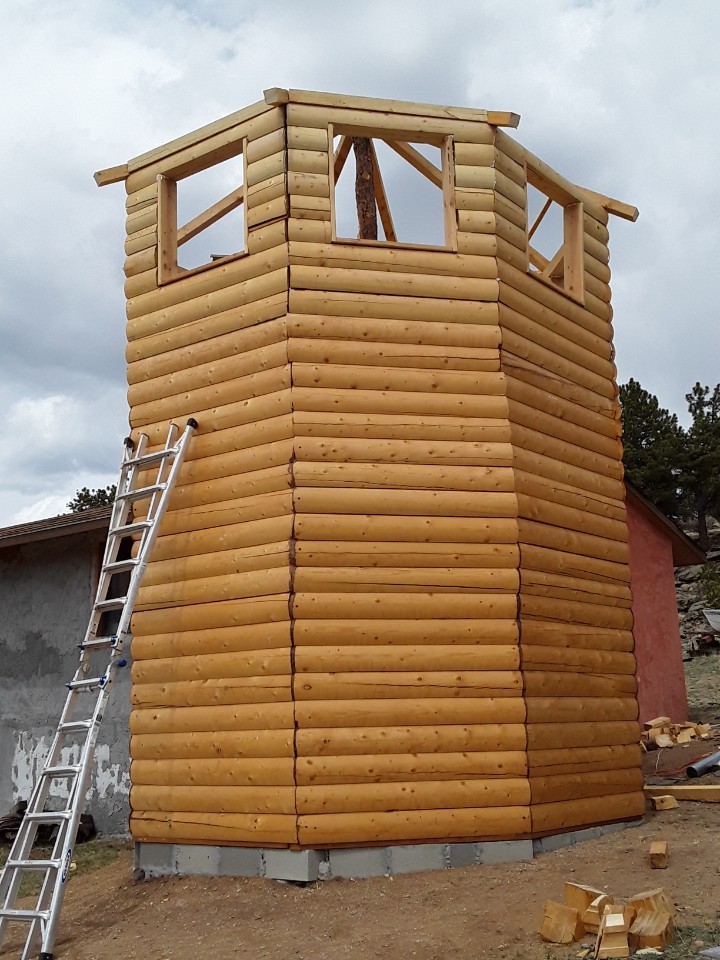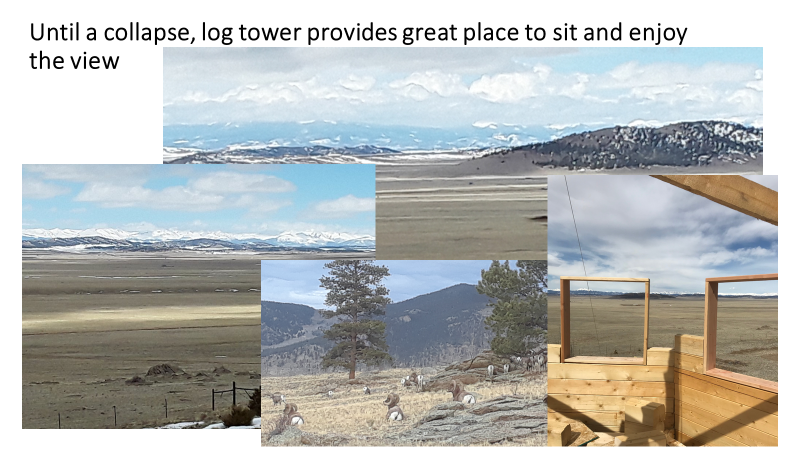 Continued Improvements at Fortitude Ranch West Virginia
We're building out more rooms at the new log home, long (120 feet) buried basement in West Virginia.  Picture below is a small top floor bedroom.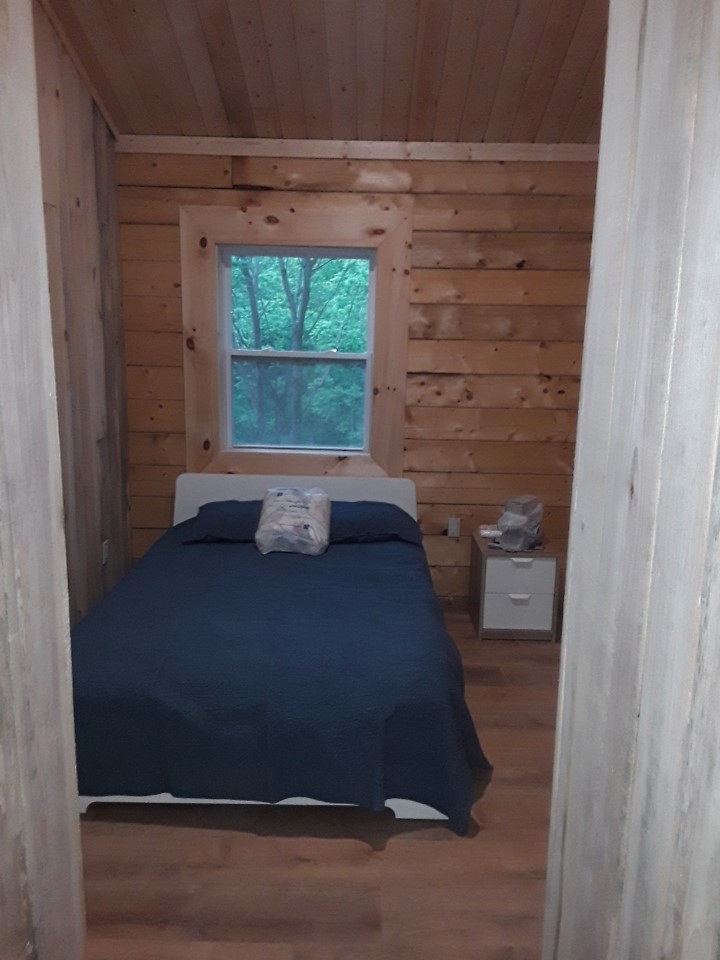 While the view out the top floor windows of the George Washington National Forest are spectacular, we're more fond of the view of our wood inside.  Photo below shows the neat effect of the hidden "rope lights" in the ceiling.  The wood beams here were milled on site from wood off our land.  In addition to staying at the B&B building, members can also stay here in the new log home on vacation visits (or stay in your underground shelter rooms if preferred).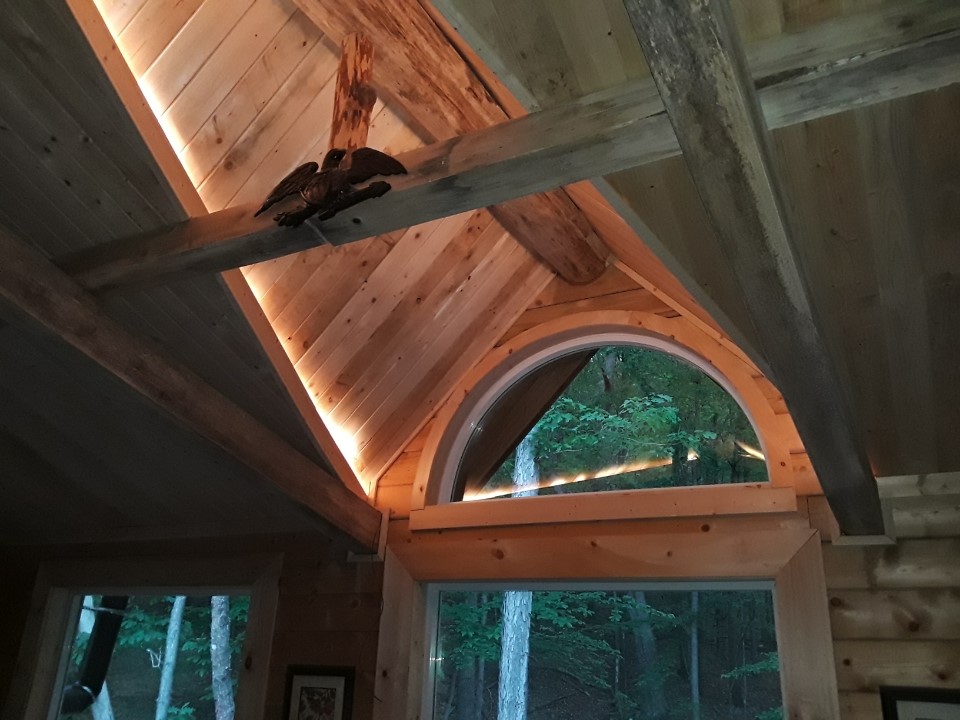 Is the Ebola Virus a Threat to us?
Several members have contacted us about the Ebola outbreak and deaths in Africa.  In its current form, and just spreading as it currently does it is not a threat, and posses little risk of pandemic since it is not an air borne readily transmissible virus like the flu is.  There are some reports of researchers who might accidentally release the virus here, or terrorists trying to spread it elsewhere.  We have seen no credible evidence of this, but continue to review information from a variety of sources.  If Ebola naturally mutated or was bioengineered to be more contagious, and retained its very high lethality, it could pose a serious threat.  We always watch for things like this, but to date see no credible evidence that anything like this is happening now.  If we do—all members will be contacted via email and phone text messages with the information, and if imminently dangerous we would of course urge members to come to Fortitude Ranch, or be ultra-ready to take refuge at our WV or CO location.
Reminder on scheduling vacation visits
Fortitude Ranch WV is already fully booked for July 4th period.  Members are reminded to make reservations (just email [email protected]) for desired visit dates at WV or CO as far in advance as possible to reserve a spot.  Very few members use their full two weeks a year of vacation time, so usually we have no trouble accommodating dates you want.
Member Meetings and Telecoms
We've tried meetings and open houses on site, and very few members can make it out with their busy schedules and travel hassles.  So to improve communication and provide some opportunities to meet other members, we're going to do regular member teleconferences and some staff/member meetings in easier to reach locations.
— Meeting with FR CEO, FR WV Ranch Manager, restaurant near Dulles Airport, July 10
For the restaurant name, direction, RSVP, please email [email protected]
— Member teleconference, Thursday, July 18, 7pm Mountain, 9pm Eastern
Join Zoom Meeting:  https://us04web.zoom.us/j/822326758
Or participate by phone:  +14086380968,  Meeting ID: 822 326 758
— Meeting with FR CEO, FR CO Assistant Ranch Manager, at Drew Miller's residence in Colorado Springs, Aug 6, 7pm.  For address, RSVP, please email [email protected]
Fortitude Ranch accepting investments from "Accredited Investors"
To build out our Colorado and Wisconsin locations, and hopefully several additional locations. we're selling equity in Fortitude Ranch to raise funds.  We wish that anyone who wants to invest could, but the federal government believes they are smarter than you and that you lack the responsibility to make your own decisions—so they dictate that unless you are higher income, it is illegal for companies to offer equity for sale in the "Regulation D" offering we're doing.  The Feds consider you an "accredited investor" if you have an annual income exceeding $200,000 ($300,000 for joint income) for the last two years or a net worth exceeding $1 million.   The "accredited" word is absolute bravo sierra—it has nothing to do with your experience or investment skills, it's strictly based on income, bureaucratic nonsense.  If you do qualify as an accredited (rich) investor and want to consider investing, please email Drew at [email protected] and he will send you the equity offering memorandum.
Non-members:  Schedule a Tour
While our website, www.fortituderanch.com, provides a wealth of information and videos, most want to tour one of our locations before joining.  We charge $25 per group for a tour, primarily to deter poor preppers who have no intention of joining but like to see our preparations.  The tour takes at least an hour.  Tours must be scheduled days in advance, so call us if interested in seeing our WV or CO locations.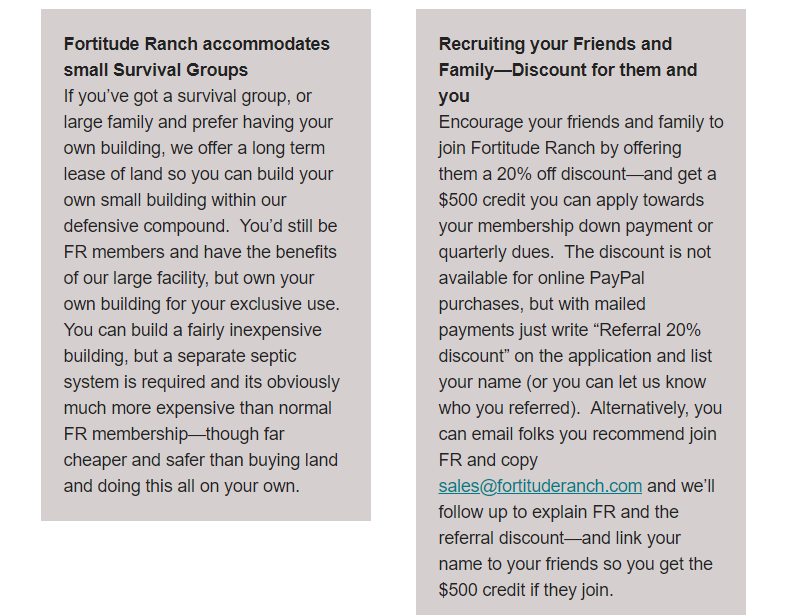 NOTE:  if you'd like a PDF copy of this newsletter to send to friends, email [email protected] and we'll send it to you.